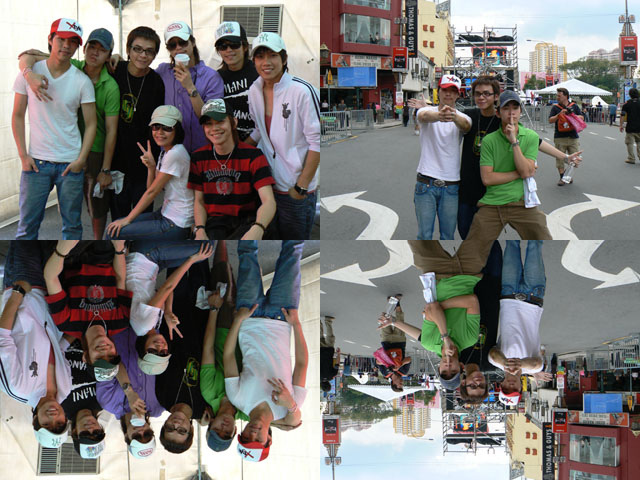 Don't mind me blogging in English, cos today's topic is related
to English. Hehe. The concert at Bukit Bintang last Saturday was
a blast! Astro's Chao Yue 50 Da Pai Dui really did rock the crowd,
did it? Everyone came back for this concert but that's not all,
it's the crowd that rocks most. Without you guys' presence the
concert wouldn't have rocked that hard.
The concert started around 8pm cos it's broadcasted live from
Bukit Bintang Street on Astro. It rained in the middle of the
show though. The weather nowadays is really unpredictable. I wonder
why. Anyway, everyone did a great job in their parts and I'm glad
singing English song that night received good response too! It was
my first time singing Love's Eternity with live band. Thanks to Mac
Chew and team for the new song arrangement. It was really good. I
had fun singing it. Well, the funny part is I didn't know why I asked
you guys, "你门觉得lum不lum啊?" - but I certainly felt like asking!
Haha!
其实,已经好久没有上台唱歌了。跟不用说的就是,太久没有和你们见面了。感觉有点想念
你门。不是有一点,是好想念你门。虽然,还有一个月就要离开国家,离开你们去海外发展
了,可是真希望在着断断的几个礼拜里完成一些事情。比如说,跟你门多见面,多聊天。所
以同时,公司也在着一个白色请人节release了一个single,取名位,情歌2007。名天就
可以听到了。我也是刚刚才知道着一个消息。你门一定要听哦!因为我也回和你门一起等待
着一受新歌的到来。
最后,要恭祝你门请人节快了!以后,请人节的时候就要想起我!