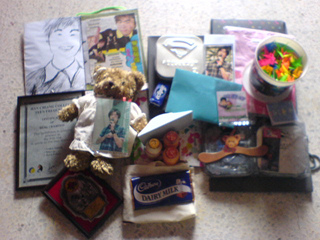 The past 4 days were spent happily. Though it's a bit tired. Come to think of it, it weren't as tired as the first album's promotion. Hehe. Me and Aric were in the list of promotion this time. We've had 4 to 5 events per day. Well, there were of course some ups and downs kind of thoughts lingering in my head once in a while but it was all okay in the end.. because I've got presents and gifts!
Hehe. Okay, I didn't really expect this to happen. You guys were great. I see all of you in almost every event! I'm touched. Very touched. My goodness. I would've shared my happiness with you all. Your presence really matters a lot to both me and Aric. Without you guys, I guess the events won't be as happening. Those applauds and cheers. Love em' all. Some of you even came from KL?! That really surprised me. Haha. You guys must not forget to study hard, okay?
The gifts. Hehe. Most of them were Superman Merchandises. Hehe. You guys gave me the whole collection of KFC's Superman Merchandise already! I'm not gonna use them. Will keep them safely. Hehe. They're too valuable. Thank you guys. Then, there was this Superman shirt from a shop, which one of you gave me. It was a bit small. That's why couldn't wear it to the last day's event. I'll try wearing it the next time I see you guys. Hehe thank you loads. All the other presents, the bear, the hangar, the vitagens, the SuperEric sticker?! Haha love them. The sketches, the chocolates, the sweets, the KFC bucket with so many origami's folded! It must've taken lots of efforts folding them. The Superman sharpener (geez.. I haven't seen this word for ages!)the cards and wishes. Thank you guys so, so much. I want to share them all with you guys here.
Those surprises in Han Chiang College. It meant a lot to me. Thank you guys for putting up a great event this time. Hope to see you guys soon yeah. Take care!
Alas, thank you all! My weekend were spent splendid-ly hehe